Transcribing Blues Solos
I noticed that many people struggle with working out solos on their own - the notes of a solo are hard to 'separate' from the backing guitar parts, things are too fast, too slow and commonly the difficulty of the learning curve is just too steep and the frustration leads to quitting the whole idea.
So I made this set of 5 solos in the styles of some of the great masters - Albert King, Eric Clapton, Chuck Berry, Stevie Ray Vaughan and Jimi Hendrix.
I transcribed a ton of solos from each artist - distilled many of their most commonly used licks (words) and then arranged them into a solo, made a backing track and recorded the solo for YOU to transcribe. Each solo comes with a full TAB transcription (and a GPX file to use in Guitar Pro) so you can check your transcription at the end and see how you did (or take a sneaky peak if you REALLY need to!).
Any guitarist who wants to play the blues has to know the common licks (words) that are in the style (language). I have transcribed many solos by each of the artists listed, worked out their 'pet' licks and then combined them in an easy way for you to learn. The best way to learn the vocabulary of these blues masters is 'raw' transcribing from the original recordings, but this will help you get to that stage and is a whole lot easier.
Once you have memorized a solo (and practised along with the accompanying backing track!) you will be much more familiar with the language which will make all future blues transcriptions a LOT easier to get started on.
* Note that there is no quick fix - there isn't one! Transcribing is often challenging, but it's REALLY GOOD FOR YOU! If you're not sure about how to get going then check out my (free) Transcribing 1 Module (which also has loads of cool exercises to do!). You'll get the best results using the Transcribe! software too - it's what I use and is excellent! Or try Audacity which is free and almost as good.
This module will make you a better blues player if you follow my suggestions. See further notes below on how to make the most of this set. I have seen a huge improvement in all my private students using this material which is why I am offering it here.
To use this product best it is YOU that transcribes the licks (the same as all the great masters we all love learned them!) and then you just use the tab I give you to check your work. Learning this way (by ear) is VERY important, and the way that every great blues guitarist learnt... only I help make it easier by giving you the tab to check your work and make sure the notes are clear (and in standard tuning!).
Do read through the notes and check out the Transcribing 1 Module if you need advice on the process (how to stop, how to write tab, how to use the software etc.).
I'm considering making some more of these, so if you dig it then let me know and perhaps I will - and what artists would you like me to include next time?
Purchasing
For $15 (USD) you get full access to the whole module - the 5 songs which have transcriptions of the lead and rhythm parts, the full track, minus lead and minus rhythm. A GPX file for use with Guitar Pro Software (available separately but with discount, if you use this link!) which is cool because you can adjust the speed of the track easily and adapt it if you want to change it!
* Please note that this is the same as Really Useful Blues Solos that was available on my site for the last 10 years, but it's now in website form and a bit cheaper!
Start with MP3 Downloads
Download the mp3 files you need to use to transcribe here!
Getting Started Tips
He's some advice on getting started with this pack and things you might want to check out (or have checked out before starting!)
How to best use these solos
This lesson has some important steps that you should heed - please read before starting! 1. Listen Listen through to each track that you will learn first at leas...
Albert King Style
Albert King was a huge influence on all the Blues that followed. He played with the thinnest guitar string on top and so he did his string bends by pulling down which ...
Eric Clapton Style
Clapton was at the forefront of British Blues and though heavily influenced from The Kings and other early blues like Robert Johnson, he bought his own unique style an...
Chuck Berry Style
Chuck Berry was a huge Blues star and a great songwriter and performer - but do if you're into the history of it all, do go check out T-Bone Walker which is where Chuc...
Jimi Hendrix Style
Hendrix is often listed as the greatest guitar player of all time - and it's not without reason - he was groundbreaking, wild and played sounds nobody had heard before...
Stevie Ray Vaughan Style
Stevie Ray Vaughan is one of the most popular blues guitar icons and had an incredible tone, feel and wrote amazing songs. He's one of those cats that took a long drin...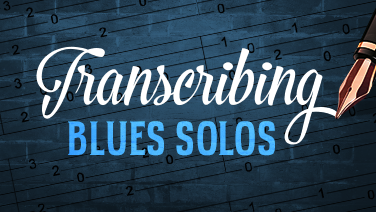 Transcribing Blues Solos
- Lesson Steps -
Start with MP3 Downloads

Getting Started Tips

How to best use these solos

Albert King Style

Eric Clapton Style

Chuck Berry Style

Jimi Hendrix Style

Stevie Ray Vaughan Style