Blues Gospel Slide Chords
Gospel slides are a real sweet addition to your rhythm skills, don't be too fussed about the theory, just use them because they sound great! Most of the Blues cats that came up with this stuff probably didn't know what they were doing, but I think it really helps to explore the 'why stuff works' if you enjoy that kind of guitar thinking!
The Theory Behind The Magic
Ok, I know some of you are gong to ask.. so lets take a little look at the theory... just the basics, if you have not done my Practical Music Theory this might not make much sense, so you might want to check that out!
The first and most commonly used shape - shown as the first G9 grip below, from thickest string to thinnest contains the notes x x F A D x which is the x, x, b7, 9, 5, x. Obviously the root and the 3rd are missing, but it sure spells a G9 chord. When you move the shape up 2 frets (one tone) and we name all the notes we get x x G B E x, which is the x x R, 3, 6, x which is a G6 chord but missing the 5th. By analysing the notes and relationship to the root, we can understand as well as hear and play the concept!
Hopefully you theory boffins are digging this - it's kinda cool how one shape can be two different chords :) The chord grips in this lesson are found below...
Backing Track
Here is the Blues in G Backing track for you to practice with! I kept this one pretty straight so you can really work in those extended chords, and make sure you are using all the 7th chords we did in the last lesson too! It does use a "Quick Change" still, but that's the only sequence variation.
Blues Rhythm Track 7 by justinguitar
Chart
Extras
So many many chords... so little time :) the 'pairs' are under each other.
*Root note not played!
*Root note not played!
*Root note not played!
*Root note not played!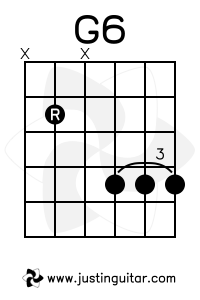 *Root note not played!
*Root note not played!